why your business should consider
a cable cleanup
If your network closet is a mess you try to ignore, I have a bunch of reasons your business should consider a Cable Cleanup. As a small business owner, I know how quickly clutter can happen. It seems that everything is crisp and put together one second, and in the next, there's equipment piled on workbenches and network cables strewn across the floor. That's the nature of business, but when it comes to IT infrastructure, order is important.
When visiting potential customers, I've seen messy and tangled cables hanging from dusty racks, blocking the airflow of servers, and hiding network equipment. These can be a nightmare to sort through when adding and removing hardware or troubleshooting network issues. Put simply, a messy network closet is not only an eyesore, it's a disaster waiting to happen.
CABLE MESSES START SMALL BUT GROW FAST
Keeping cables neat and organized requires proper layout organization from the start. I've heard the same story time and again. We just started with just a few computers—I don't know how we lost control. I do. Without a mapped structure, as your business grows, cables and equipment are added with no plan to keep things tidy.
Businesses of all sizes are guilty of poorly maintained racks, stringing random cables, and hiding it all in a closet. A consistent cabling layout keeps your network closet from becoming an eyesore and makes it easier to keep the racks and equipment clean because dust and dirt cause heat problems, which in turn cause failures. Keeping things orderly also allows new equipment to be added or faulty equipment replaced much more efficiently, which saves you money on IT visits.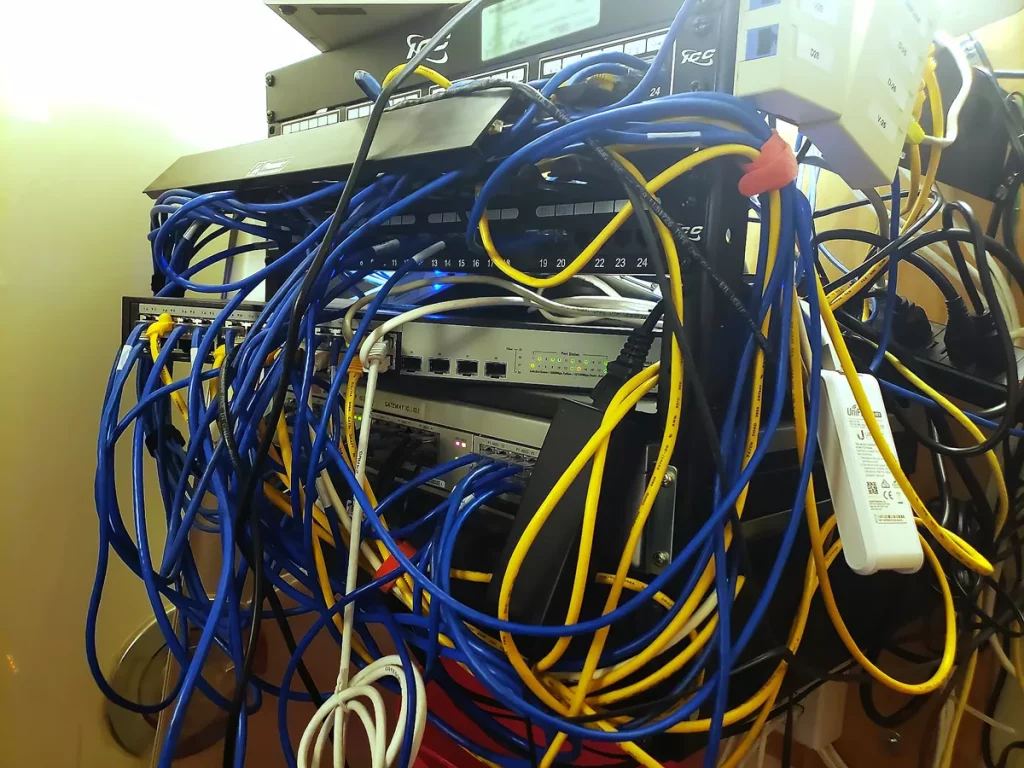 WHAT'S IN A NETWORK CLOSET?
Your network closet is a central space for all your wiring. It houses the equipment that makes all your wired devices work. Ironically, it is all generally put in one location to make cable management and cleaning easier.
Most network closets include:
Modems
Firewalls
Patch panels
Servers
Alarm systems
Phone systems
Fiber connections
Circuit panels
More importantly, this is where the cables connect to wall jacks for computers, phones, and wireless access points. It is literally the central hub for all your communications. As such, they should be planned with growth in mind.
SOME BENEFITS OF AN ORGANIZED NETWORK CLOSET
Before I get into the technical benefits, many of which I've already touched on, cable cleanups have an immediate effect that has nothing to do with technical operations. A clean network closet is simply satisfying to look at. Our technicians love doing these because it gives them a sense of accomplishment and thrills the customer.
In addition:
Simpler Troubleshooting
In a tangled mess of wires, trying to figure out what is plugged into what takes time, and almost always leads to the wrong thing being unplugged at the wrong time. I've personally spent hours trying to trace cables to get a new computer or device plugged in—not only is it a headache, but it also gets expensive.
Properly labeled ports immediately reduce the time and stress of troubleshooting, saving you money.
Hardware Lasts Longer
Technology is constantly breaking and becoming outdated. Keeping equipment clean will help it last longer and make it easier to keep updated. I can't tell you how many times my technicians have found old network equipment hidden in messy closets that slow things down and represent a security vulnerability.
By documenting the hardware in your network closet and keeping it clean, you'll help it last longer, saving you money.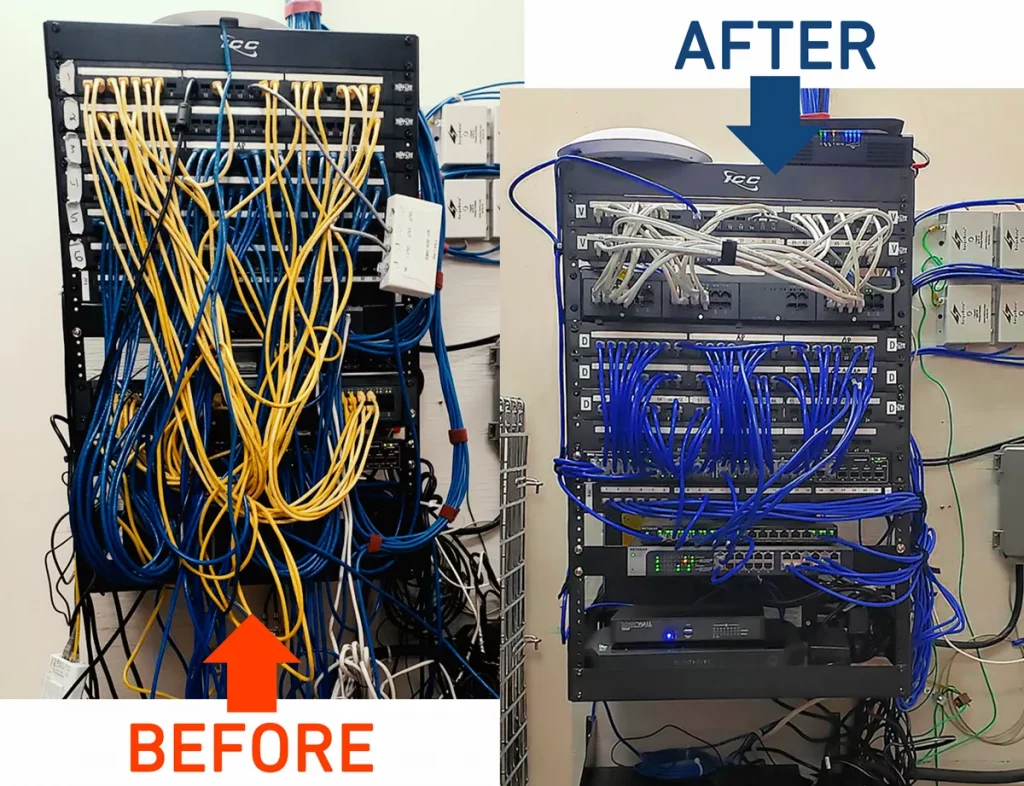 Proactive Problem Solving
It's impossible to foresee technical issues, but a clean network closet will help to prevent some potential issues from occurring. I've seen heavy items set on cables breaking internal wires, found cable connectors partially pulled out, and heard of cables getting chewed through by vermin. These things are far less likely to happen in a clean server closet.
Seeing potential problems will help keep minor inconveniences from becoming major problems, saving you money.

THE BIG BENEFIT OF A CABLE CLEANUP
I can't tell you how much I hate seeing a messy network closet. Because, as a business owner myself, I know that a cable cleanup will save you money in the long run.
If your network closet looks as bad or worse than some of the before pictures we have here, give us a call at 301-456-6931 or send an email to [email protected] for a free quote on Cable Cleanup, and my techs will show you why we are Simply the Best Choice in IT Support.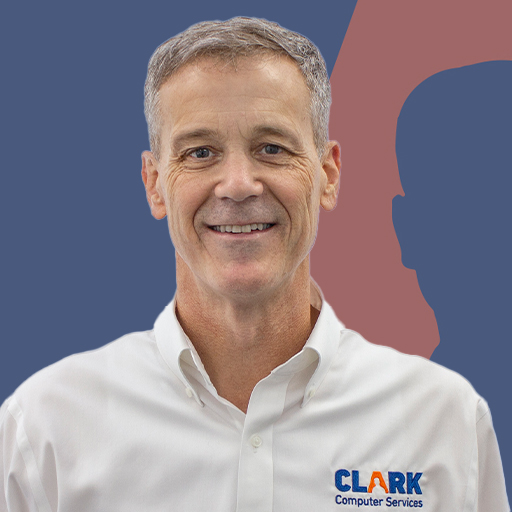 President And Owner
I left big business to start Clark Computer Services in 2003; not because I had a grand vision, but because I had three young children who needed their Dad around. Knowing I had to replace my salary, I went door-to-door visiting small businesses to introduce myself and ask if they needed IT support. I heard story after story from business owners and office managers about IT companies not returning calls and emails, grumpy technicians showing up late or not at all, and systems being down for days, weeks, and in some cases…months. I realized quickly that there was a clear and pressing need for reliable, honest, and professional IT support completed pleasantly and on time.