A Beginner's Guide to Connecting Cables
Behind every computer is a sea of connecting cables, either tangled, bunched, or, more rarely, neatly wrapped, that allows for information to be transferred – a critical aspect of a working system. When everything works, it's great, but what happens when something stops working? Many of us have no clue which cables to buy if it doesn't come with a device or how to replace one when it fails.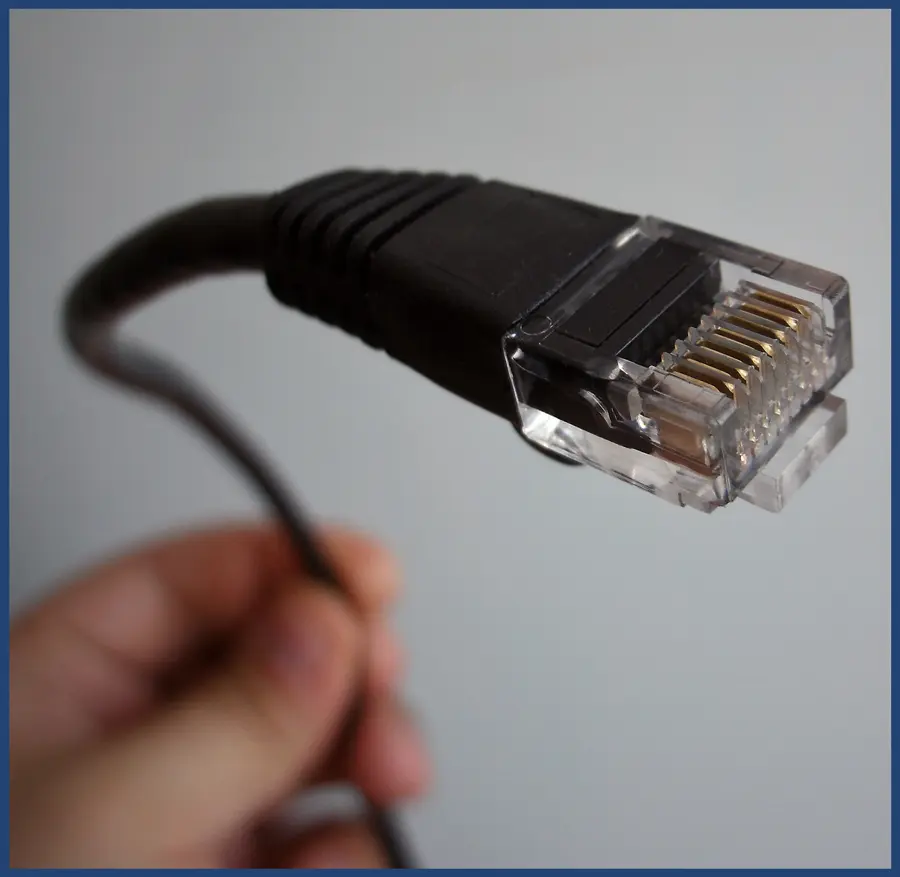 Fortunately, I'm here to provide some guidance. Read on as I describe the most common connecting cables and their use.
ETHERNET CABLES
Let's begin with a common but essential cable. Although many of us use Wi-Fi with laptops, tablets, and other mobile devices, Ethernet Cables are still needed to connect to desktop computers. Most desktops don't have wireless capabilities, and these cables are required to create networks in office settings. The ethernet cable is a type of network cable and is often referred to as LAN (Local Area Network) cable. In addition to desktops, ethernet ports can be found on routers, TVs, printers, and even fax machines.
By hardwiring devices to modems rather than using a wireless connection, your internet speed will be improved, and the connection will be more stable. Typically, you want to hardwire devices that are not often moved, like TVs and desktop computers, while keeping mobile devices like cell phones and laptops connected wirelessly.
DISPLAY PORT CABLES
Designed to provide both audio and video signals, the Display Port Cable is typically used to connect a monitor to a PC or laptop. These cords are commonly interchanged with the more popular HDMI cable but are not as commonly used for TVs. Comparing them, display port cables are superior to HDMI cables for use with computers because they have greater bandwidth, meaning they can transmit more information, and that information is bidirectional.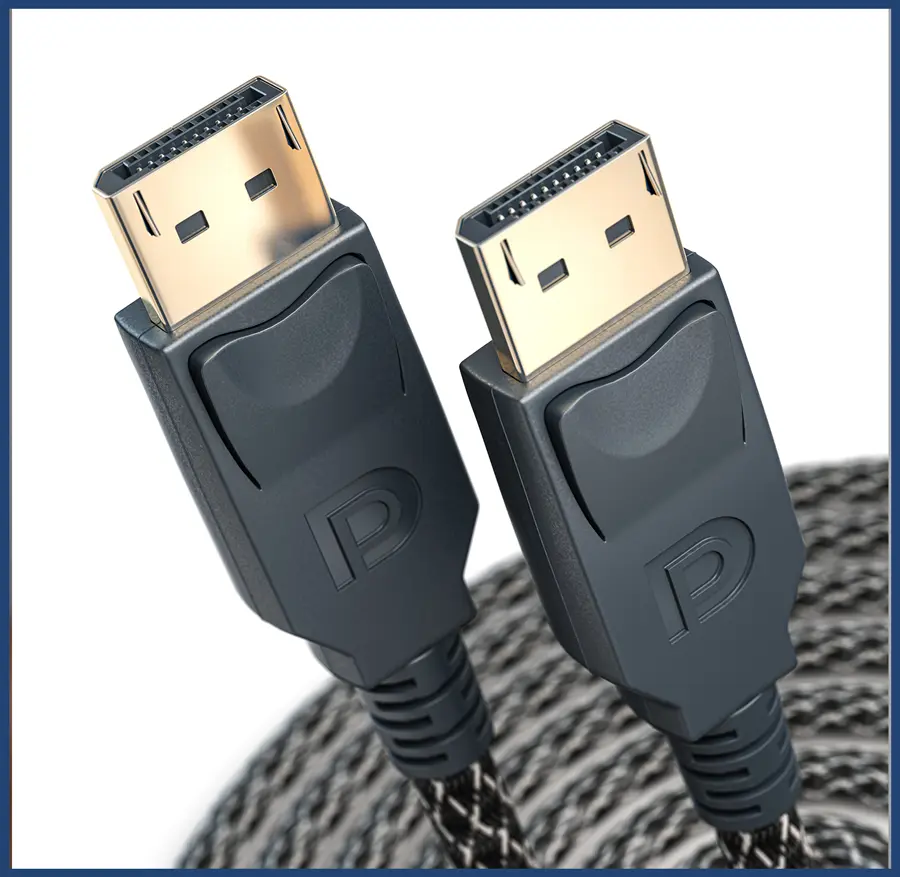 For this reason, gamers, designers, and multimedia creators typically prefer to connect their devices with display port cables.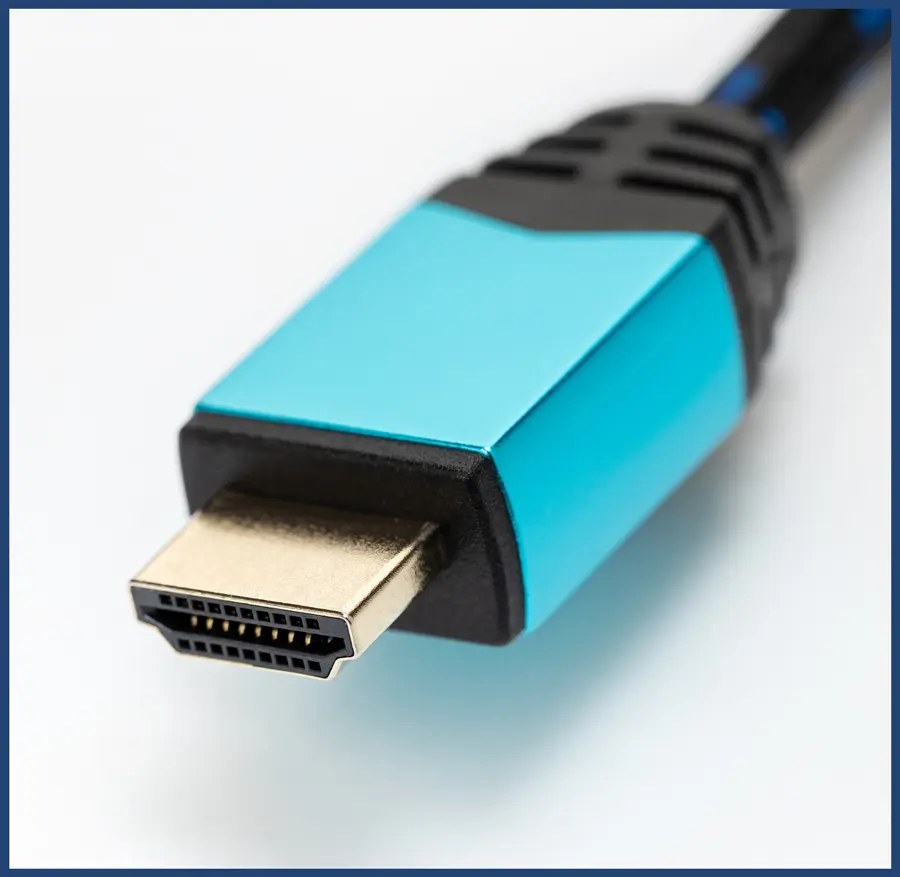 HDMI CABLES
Commonly used for display and audio purposes, High-Definition Multimedia Interface cables, more commonly referred to as HDMI cables, come in various sizes. The larger HDMI Type A cable is probably the one you see most often. These are used to connect cable boxes or gaming systems to TVs or to display information on computer monitors.
More rarely found are the HDMI Type C cable and the smallest of the HDMI cables, the Type D. These two cables are used for portable devices, such as cameras, tablets, and smartphones. All three cables replace older analog cables and can transmit information for up to 15 meters without degradation!
USB CABLES
While there are many different generations and forms of Universal Serial Bus (USB) cables, the Type A USB cables are the standard connectors with a flat and rectangular shape. These ports are found in all modern computers, and the cables can serve many purposes, including connections for mice, keyboards, headphones, chargers, and more.
More recently, USB Type C cables have been gaining popularity, though. These cables, with a jack that looks like a flat oval, are reversible, meaning that you can plug the jack in either right-side up or right-side down- in fact, there is no wrong way up! These are used for all types of devices and are capable of transmitting both data and power.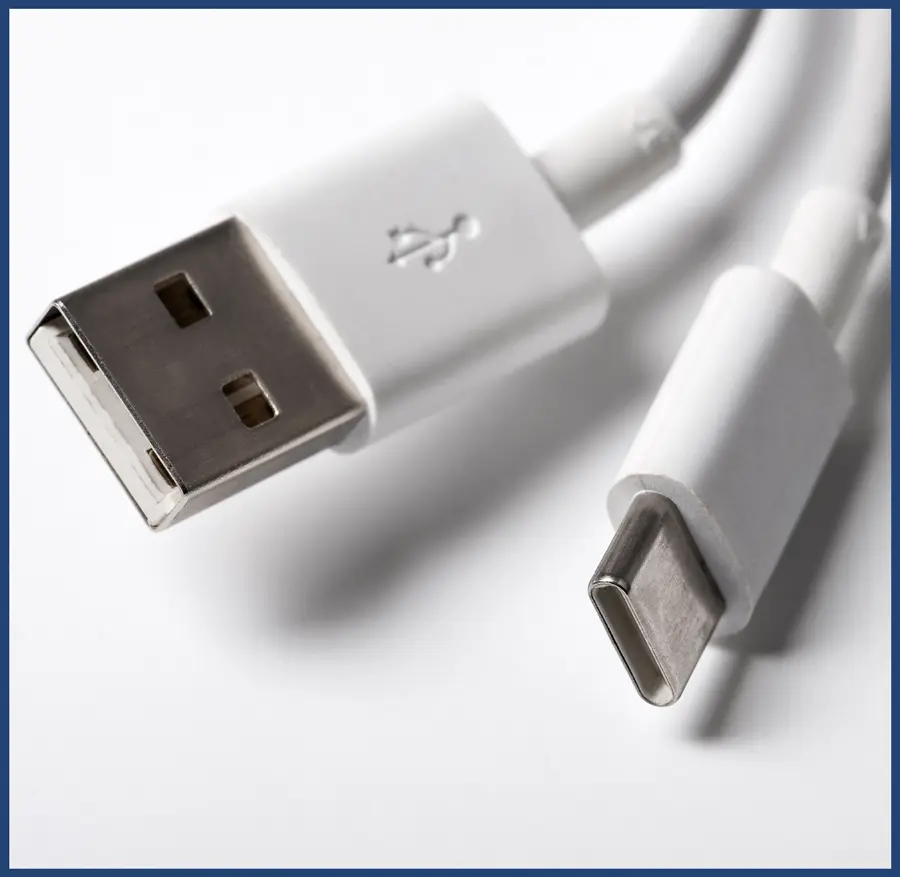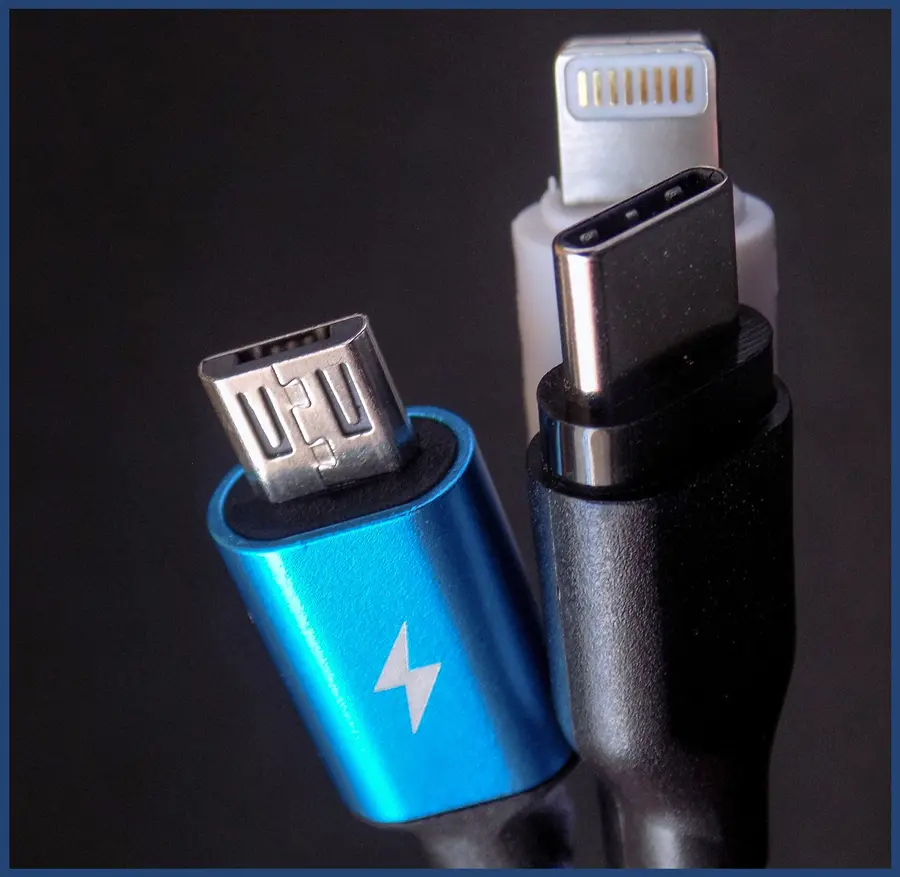 Other common USB cables are Type B, Type B Mini, and Type B Micro. As these were in circulation about a decade ago, we don't see them as often with newer technology. But if you have an older printer, camera, or phone, you might still be using them.
LIGHTNING CABLES
Since we're talking about newer cables, here's one we are seeing a lot more. Lightning cables were explicitly developed for Apple's mobile devices. Designed to perform multiple functions, it is a charging cable that can also connect the device to computers and transmit audio through special headphones or by using a special adapter. Like the USB Type-C, this connector is reversible and doesn't have a right way up.
As is typical for Apple, Lightning cables use a brand-new port that is not compatible with any previous cables.
KEEP IN MIND
When it comes to cables, it's good to check both ends. While some cables have the same connector on both ends, that's not always the case. Most often, though, each end will be one of those listed here. Now that you have an idea of what you're looking at, with a quick Google search, you can find a wide range of cable types, such as HDMI to USB, HDMI to Display Port, Lightning to USB, and many more. And if you're searching for a specific cable, check out the Cables2Go Connection Guide. If you can't find the cable you need, consider looking up an adapter to create the perfect cable.
For more guidance on cabling or quotes for cable cleanups, Clark Computer Services has you covered. Reach out to us at [email protected] or by phone at 301-456-6931, and our friendly staff can answer all your questions.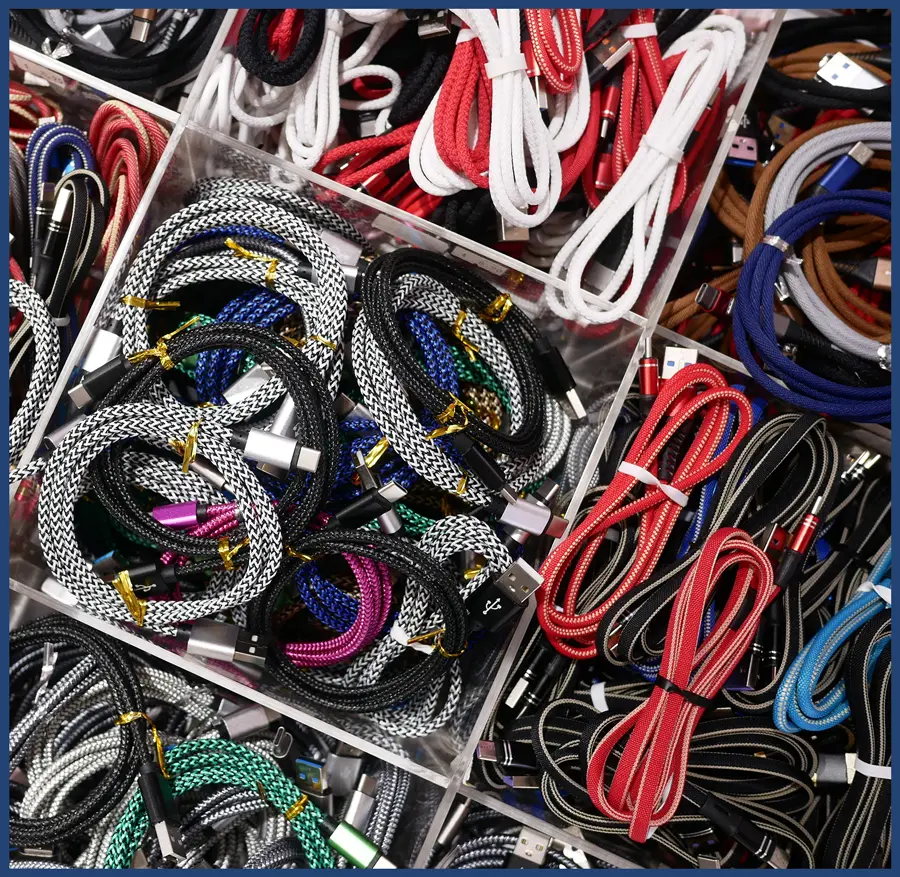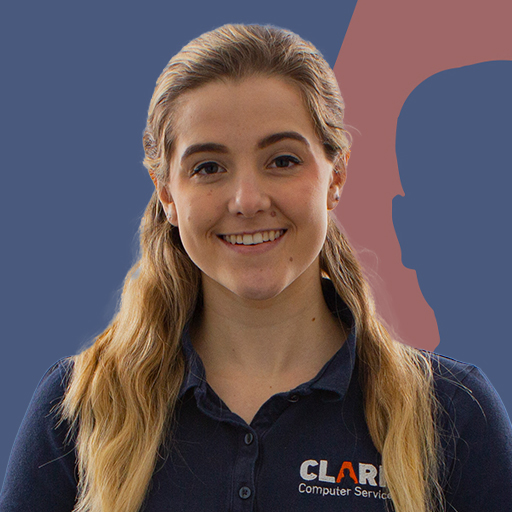 Being raised by Clark's owner, Darren, I have always been immersed in the world of technology. However, I have always followed it from a distance. I went to college to get my degree in Business Finance and Applied Economics, as I have always been a fan of research and statistics. I was even lucky enough to get my senior thesis in economics published. My next string of luck was getting a job straight out of college as a Researcher in Richmond, VA. I was able to pursue research and publish dozens of news articles in my field. Now, I am so excited to delve back into the world of technology that I was raised in, and look forward to honing my research in the technological field.